Village overview
Kingston Bagpuize with Southmoor is situated 10 miles south-west of Oxford at the junction of the A420 and A415.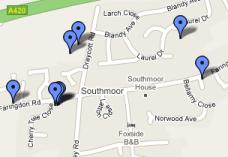 The parish lies on the 'Golden Ridge' of Corallian limestone which runs from Cumnor to Faringdon. Its fertile soils have nurtured farms famous for their fruit and hops. The name comes from de Bachepuise, a Norman family who controlled the estates after the Conquest. The building of a bypass has encouraged recent development and the population is 2269 (source: openlylocal.com, 2001). The village shops and services are used by many neighbouring communities.
View Kingston Bagpuize with Southmoor in a larger map on Google showing locations of all the shops and amenities.
Village Hall
The Village Hall is a facility of which the village can be justly proud. Opened in 1987, after a protracted period of active fund-raising and intense negotiations, it has received wide acclaim for its design and facilities. It is a charity run by an elected Management Committee, and is available for group, society, club and personal bookings throughout the year.
Address: Southmoor Village Hall, Draycott Road, Southmoor, Abingdon, OX13 5BY
Email: This email address is being protected from spambots. You need JavaScript enabled to view it.

Tel: 07771 539901 - For booking details and availability please phone the secretary.
Waggon & Horses
Village pub serving a range of wine, lager, real ales and food. Regular Saturday events include disco bingo, race nights, monthly quiz nights on Sundays swell as a meat raffle. Carvery on Sunday 12-3pm. Function room available, FREE Wifi, Sky and BT Sports.
Address: Faringdon Rd, Southmoor, Abingdon, Oxfordshire, OX13 5BG
Tel: 01865 821676
Web site: Waggon and Horses, Southmoor
The Hinds Head
Sadly no longer a pub. Now a Coop mini market opened in January 2019. Extensive range of grocery items from one of 3000 convenience store run by Coop national.
Lamb & Flag
Sadly no longer a pub. Now a private house.
Fallowfields Country House Hotel and Restaurant
Sadly no longer a hotel. Now demolished and replaced by a new housing estate.

Kingston Bagpuize Post Office
Yet another loss to the village as a result of recent planning permissions. The PO will close on 16th February 2019.
Head office PO is panning to move the post office to the new Coop store at the old Hinds Head
OneStop
Extensive range of groceries from this Tesco-owned chain who took over from Southmoor Food and Wine in Summer 2014.
Address: Cherry Tree Close, Southmoor, Abingdon, Oxfordshire, OX13 5BB
Tel: 01865 580520
Aquarius - Hairdressers
Local hair and beauty salon offering an array of hair cuts, colours, and style arrangements as well as gel nails.
Address: Alpenhaus, Faringdon road, Southmoor nr Abingdon,oxon OX13 5AF
Tel: 01865 820641
Web site: http://www.facebook.com/AquariusHairStudioOXON
Munch@TheLogCabin
Offering hot and cold snacks, sandwiches and soft drinks.
Address: 2 Cherry Tree Close, Southmoor, Abingdon, Oxfordshire, OX13 5BB
Tel: 01865 820314
Crossroads Renault
No longer a garage. Developed to provide another convenience store - this one part of the Coop Midland Counties organisation.