Computer Group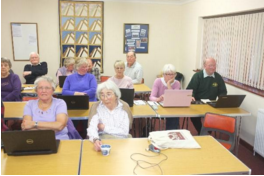 Since​ ​2011​, ​KBSonline​ ​has​ ​facilitated​ ​a​ ​series​ ​of​ ​computer​ ​classes​ ​for​ ​those​ ​a​ ​little​ ​frightened​ ​or bewildered​ ​by​ ​modern​ ​technology.​ Many​ ​have​ ​felt​ ​separated​ ​from​ ​their​ ​younger​ ​friends​ ​and relations​ ​and​ ​complained​ ​of​ ​being​ ​'out​ ​of​ ​the​ ​loop'. The​ ​first​ ​two​ ​years'​ ​sessions​ ​were​ ​hosted​ ​in​ ​John Blandy​ ​School​ ​because​ ​of​ ​their​ ​profusion​ ​of laptops.​ ​Getting​ ​the​ ​assembled​ ​company​ ​out​ ​of the​ ​little​ ​people's​ ​chairs​ ​after​ ​2​ ​hours​ ​was​ ​a challenge​ ​and,​ ​as​ ​members​ ​acquired​ ​their​ ​own laptops​ ​and​ ​tablets,​ ​we​ ​changed​ ​the​ ​format and​ ​the​ ​venue. We​ ​now​ ​meet​ ​in​ ​the​ ​Village​ ​Hall​ ​soon​ ​after Christmas​ ​each​ ​year.​ ​​ ​For​ ​the​ ​past​ ​two​ ​years instead​ ​of​ ​'teaching'​ ​computer​ ​skills​ ​we​ ​have​ ​established​ ​clinic​ ​format​ ​where​ ​anyone​ ​can​ ​come with​ ​their​ ​individual​ ​problems​ ​and​ ​get​ ​advice.​ These​ ​problems​ ​have​ ​ranged​ ​from​ ​safe​ ​banking and​ ​selling​ ​on​ ​the​ ​Internet​ ​to​ ​disaster​ ​recovery​ ​following​ ​the​ ​loss​ ​of​ ​passwords.​ We've​ ​not​ ​been stumped​ ​yet!
Look​ ​out​ ​for​ ​announcements​ ​about​ ​the​ ​2018 ​series.
Links for the Computer Group.

Use these links to help keep up your interest and recall things you have been taught in the Computer Group.
Wish to know what to do next or problems with your computer ?
Click on the link Martha's Web and view what my friend Martha says: 'I am still learning and I am proof that you never get too old to learn. I hope that you will find the answers you are looking for on my site, I made it for all of my friends that are computer newbies (and confused) and I hope you will use the information provided here to keep your computer running smooth as new, to become better informed about scams and be safe while surfing'!
---
Genealogy Links
The links shown below are some that we use most frequently, and some that I recommend that you try if you are new to Family History. The Federation of Family History Societies [FFHS] has details on how to begin your Family History. There are a loads of questions and answers on this Federation website.
Also on the same site you will find "Tips for using a Record Office".
The web is now so full of genealogy sites, that it can often be a daunting experience to determine what to do next to discover the past lives of our ancestors. I have arranged these links below in an order which I hope will help you if you are researching your family history or if you are simply browsing these pages and wish to journey via photography to Wales, Derbyshire, Oxfordshire and Berkshire.
---
Subscription and Free services
---
Archives, Museums and Libraries
---
Maps
---
Photographs
World War 1 Photos Thousands of identified photos of First World War officers, soldiers, sailors, nurses, airmen and civilian workers available
John Ball's Welsh Archive Listen and learn Welsh place names and see superb photographs.
Welsh Folk Museum - a wonderful museum, more than a day's visit.
Llanciach Fawr Museum - Llancaiach Fawr Manor stands proudly, as it has done since c1550, overlooking the Glamorgan Uplands. Step inside the Manor House restored and furnished as it would have been in 1645. All the furnishings in the rooms are accurate reproductions of items from the time of the Prichards. Well worth a visit. Good resturant.
Geograph ~ Search for any photo of the British Isles - and see if it is covered. Some spectacular images.
Village Site ~ Kingston Bagpuize - A Village Snapshot. A sister site to Muir Family Genealogy.
Village Community Site ~ Kingston Bagpuize Online.
Alan Jefferies website ~ history of Jeffries ancestors who lived in Kingston Bagpuize, much newspaper information on this site re this village.
---
Design a website
Genealogy web design - Pat's truly helpful website for building genealogy and other webpages.
This e-mail address is being protected from spambots. You need JavaScript enabled to view it a great help with very experienced and just beginning members.
Rootsweb Freepages unlimited webspace for free. You will be automatically subscribed to Freehelp Mailing List.The list purpose is for Family and Local history and no adverts.
Rootsweb World Connect - submit your family tree to World connect. More than 460 million names on file.
Questions? You know where I am, Jill